Contacts: Jennifer Kramer 973-441-0023
jennifer.kramer@honeywell.com
Convenient R-1234yf service cans now readily available at auto retail stores across North America
MORRIS PLAINS, N.J., August 16, 2017 — Honeywell
(NYSE: HON)
announced today that NAPA Auto Parts is now selling
Solstice® yf
(R-1234yf) service cans in its stores, making it the first national retailer to carry the R-134a replacement in the new package size. The availability of the service cans at NAPA stores across the nation allows certified technicians to easily stock inventory to service the growing number of car brands that now contain R-1234yf refrigerant. "As more governments worldwide adopt environmental regulations calling for the phase out of R-134a due to its high global-warming-potential, Solstice yf has become the global standard for automotive air conditioning," said Rick Winick, global business director, Mobile Refrigerants, Honeywell Fluorine Products. "By stocking Solstice yf service cans at stores nationwide, NAPA Auto Parts is making it easier than ever for auto service professionals to manage their inventory and continue providing quality service to their customers." More than 40 million vehicles globally are expected to use R-1234yf within the year. In an effort to keep up with high demand from the industry, 4-packs of Solstice yf service cans are now available at thousands of auto aftermarket retailers nationwide, including the local Middletown, Del. NAPA Auto Parts store, as seen in the below photo.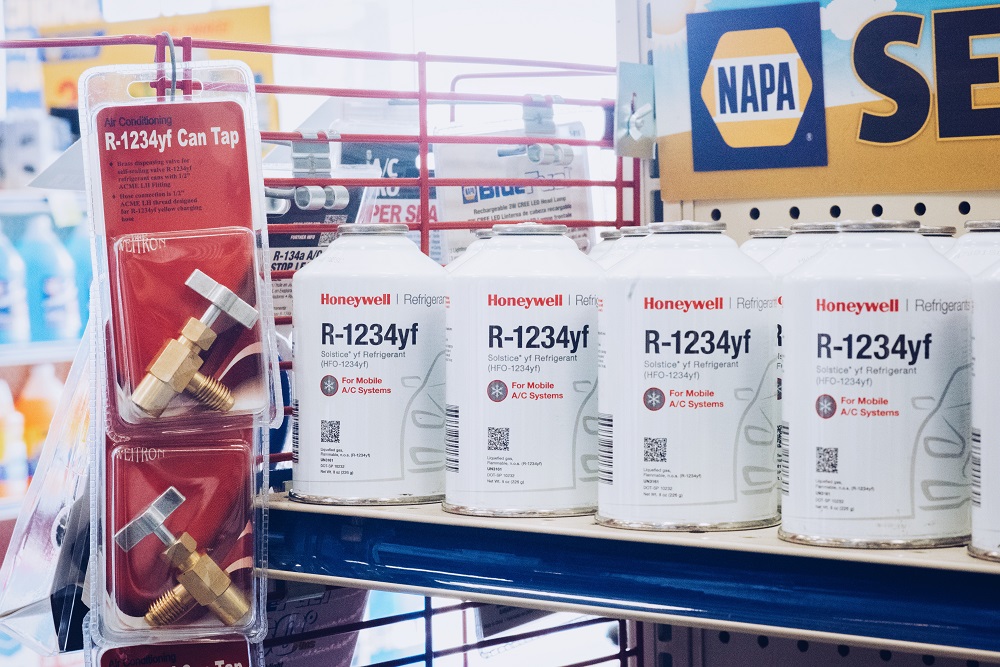 Solstice yf service cans in stock at NAPA Auto Parts located in Middletown, Del.
The automotive industry is already leading the transition from the previous standard A/C refrigerant, R-134a, to R-1234yf, an environmentally preferable replacement based on Honeywell's
award-winning
breakthrough hydrofluoro-olefin (HFO) technology. It has a GWP of less than 1, which is 99.9 percent lower than R-134a, which has a GWP of 1300. More than 20 million vehicles globally currently use R-1234yf, and the number is growing exponentially. In addition, a number of models sold with R-1234yf as early as model year 2014 are reaching the end of their manufacturer's warranties and will likely need to have their A/C systems serviced. Honeywell is a world leader in the development, manufacture and supply of 
refrigerants
 that are sold worldwide under the Solstice
®
 and Genetron
®
 brand names for a range of applications, including 
refrigeration
, 
building
 and 
automobile
 air conditioning. Honeywell and its suppliers have completed a 
$900 million investment program
 in R&D and new capacity based on Honeywell's hydrofluoro-olefin (HFO) technology. For more information, visit 
www.honeywell-refrigerants.com
, or visit 
www.1234yftraining.com
 for three brief videos that summarize how to use the service cans. Honeywell (
www.honeywell.com
) is a Fortune 100 software-industrial company that delivers industry specific solutions that include aerospace and automotive products and services; control technologies for buildings, homes, and industry; and performance materials globally. Our technologies help everything from aircraft, cars, homes and buildings, manufacturing plants, supply chains, and workers become more connected to make our world smarter, safer, and more sustainable. For more news and information on Honeywell, please visit
www.honeywell.com/newsroom
.
###